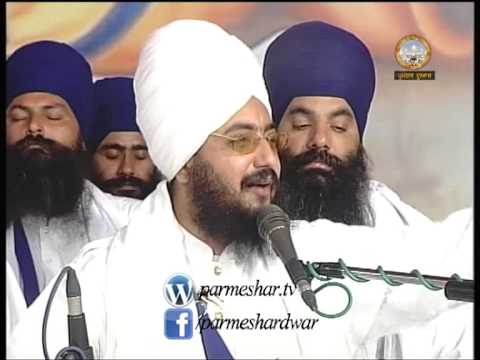 'Bhang' or 'Sukhnidhaan', which is marijuana (cannabis) used by large number of Nihangs nowadays is often justified through various means such as the quoting of tales and stories and the claiming these to be 'early traditions'. However, our Guru is eternal and with us forever. Why do we need to refer to stories and justifying traditions by claiming they are 'old traditions' passed down when we have Guru Granth Sahib Ji with us to tell us what is in accordance to Gurmat. Gurbani clearly condemns the consumption of marijuana. Furthermore, medical studies bear out that consumption of marijuana and cannabis on regular basis leads to schizophrenia, and mental problems such as memory loss. The sad fact is that nowadays if you go to India you can observe some Sikhs claiming to be Nihangs, who drink 'Bhang' have become mentally unstable.
A number of modern 'Nihang Singhs' observe some rituals and practices, which are contrary to Gurmat, for example the consumption of marijuana ('bhang'). These customs and 'traditions' crept in to Nihangs during the period when the Mahants (Hindu caretakers) managed and maintained our Gurdwaras in 18th to early 20th century. It is well known that devotees of Shiva eat Bhang and get intoxicated and also eat meat, later adopted by Sikhs that got confused in between the Sikh religion and Hinduism (known as 'Sanaatanism'). During this period the Sikh religion was distorted and many non-Sikh practices infiltrated into the Sikh Panth. Those who follow these anti-gurmat practices claim that they are 'old traditions' (Puraatan Maryada) from the Guru's time, however Gurbani sheds true light on whether these practices and observances are Gurmat (according to the guru's teachings) or Manmat (self-willed). Reading and understanding Gurbani it becomes apparent that some distortions have entered the traditions of the Nihangs and the wider Sikh community.
ਅਮਲੁ ਗਲੋਲਾ ਕੂੜ ਕਾ ਦਿਤਾ ਦੇਵਣਹਾਰਿ ॥
ਮਤੀ ਮਰਣੁ ਵਿਸਾਰਿਆ ਖੁਸੀ ਕੀਤੀ ਦਿਨ ਚਾਰਿ ॥
ਸਚੁ ਮਿਲਿਆ ਤਿਨ ਸੋਫੀਆ ਰਾਖਣ ਕਉ ਦਰਵਾਰੁ॥1॥
"The Great Giver has given the intoxicating drug of falsehood. The people are intoxicated; they have forgotten death, and they have fun for a few days. Those who do not use intoxicants are true ; they dwell in the Court of Waheguru. ||1||"
(Ang 15)
'Janamsakhi Bhai Bala' states that Babar heard Guru Nanak Dev Ji sing the shabad:
ਖੁਰਾਸਾਨ ਖਸਮਾਨਾ ਕੀਆ ਹਿੰਦੁਸਤਾਨੁ ਡਰਾਇਆ॥
"Having attacked Khuraasaan, Babar terrified Hindustan…"
(Ang 360)
Hearing this shabad, Babar called Guru Ji and asked him to sing it again. Guru Ji sang it again. Babar said, "Friends, he is a nice 'Fakeer' (Holy man)." Then, he offered 'Bhang' to Guru Ji and said, "O Saint, eat the 'Bhang'."
However, Guru Ji replied, "Meer Ji, I have eaten the Bhang, whose stimulation never ends". Babar asked, "Which is the Bhang, whose stimulation never ends?"
Guru Ji asked Baba Mardaana Ji to play on 'Rabaab'. Guru Ji recited this shabad: –
ਤਿਲੰਗ ਮਹਲਾ 1 ਘਰੁ 2 ੴ ਸਤਿਗੁਰ ਪ੍ਰਸਾਦਿ ॥
ਭਉ ਤੇਰਾ ਭਾਂਗ ਖਲੜੀ ਮੇਰਾ ਚੀਤੁ ॥ ਮੈ ਦੇਵਾਨਾ ਭਇਆ ਅਤੀਤੁ ॥
ਕਰ ਕਾਸਾ ਦਰਸਨ ਕੀ ਭੂਖ ॥ ਮੈ ਦਰਿ ਮਾਗਉ ਨੀਤਾ ਨੀਤ ॥1॥
ਤਉ ਦਰਸਨ ਕੀ ਕਰਉ ਸਮਾਇ ॥ ਮੈ ਦਰਿ ਮਾਗਤੁ ਭੀਖਿਆ ਪਾਇ ॥1॥ ਰਹਾਉ ॥
ਕੇਸਰਿ ਕੁਸਮ ਮਿਰਗਮੈ ਹਰਣਾ ਸਰਬ ਸਰੀਰੀ ਚੜ੍‍ਣਾ ॥
ਚੰਦਨ ਭਗਤਾ ਜੋਤਿ ਇਨੇਹੀ ਸਰਬੇ ਪਰਮਲੁ ਕਰਣਾ ॥2॥
ਘਿਅ ਪਟ ਭਾਂਡਾ ਕਹੈ ਨ ਕੋਇ ॥ ਐਸਾ ਭਗਤੁ ਵਰਨ ਮਹਿ ਹੋਇ ॥
ਤੇਰੈ ਨਾਮਿ ਨਿਵੇ ਰਹੇ ਲਿਵ ਲਾਇ ॥ ਨਾਨਕ ਤਿਨ ਦਰਿ ਭੀਖਿਆ ਪਾਇ ॥3॥1॥2॥
"Tilang, First Mehl, Second House: One Universal Creator God. By The Grace Of The True Guru: The Fear of You, O Lord Waheguru, is my marijuana (cannabis); my consciousness is the pouch, which holds it. I have become an intoxicated hermit. My hands are my begging bowl; I am so hungry for the blessed vision of Your Darshan. I beg at Your Door, day after day. ||1|| I long for the blessed vision of Your Darshan. I am a beggar at Your Door. Please bless me with Your charity. ||1||Pause|| Saffron, flowers, musk oil and gold embellish the bodies of all. The Lord's devotees are like sandalwood, which imparts its fragrance to everyone. ||2|| No one says that ghee or silk are polluted. Such is the Lord's devotee, no matter what his social status is. Those who bow in reverence to the Naam, the Name of Waheguru, remain absorbed in Your Love. Nanak begs for charity at their door. ||3||1||2||"
(Ang 721)
Guru Ji clearly says that 'ਭਉ ਤੇਰਾ ਭਾਂਗ' (Bhau Tera Bhaang), meaning 'The Fear of You, Waheguru, is my marijuana (cannabis)'. Thus, Waheguru's Fear is the true 'Bhang' for a Sikh. Reading this holy shabad, how can anyone say that Guru Ji accepted 'Bhang' and that he has not condemned it? If Guru Ji was pleased when Babar offered 'Bhang' to him, why did Guru Sahib not drink it? 'Janam saakhi Bhai Bala' does not state that Guru Ji drank 'Bhang', contrary to what some people claim in pursuit of defending their manmat practices.
Gurbaani also tells us:
ਕਬੀਰ ਭਾਂਗ ਮਾਛੁਲੀ ਸੁਰਾ ਪਾਨਿ ਜੋ ਜੋ ਪ੍ਰਾਨੀ ਖਾਂਹਿ ॥
ਤੀਰਥ ਬਰਤ ਨੇਮ ਕੀਏ ਤੇ ਸਭੈ ਰਸਾਤਲਿ ਜਾਂਹਿ ॥233॥
"O Kabeer! Any human being who consumes marijuana, fish (meat), and drinks alcohol – not matter what pilgrimages, fasts and rituals they observe, they will all go to Hell. ||233||"
(Ang 1377)